Find tenants
Creating your listing is easy
From $40, advertise your property your way and make sure you attract the right tenants.
Create your listing
Add the basic details of your property, when it is available and the weekly rental. Plus a short description and features along with any specific requirements or conditions.
Add your photos
Photos are the first thing potential tenants look at. Preferably take them on a nice sunny day with the lights on. We require a minimum of 5 photos but add as many as you like. Don't worry, if you don't have photos handy, finish creating your listing without them and you can add them later. Make sure you order your photos to show the best ones first.
Upgrade to Trade Me for $65
Choose between our standard $40 listing on myRent or optionally upgrade to include a Trade Me listing with a Super Feature Combo for $65. A Super Feature Combo means your listing stands out even more and is at the top of the search results. Learn more about Trade Me upgrades.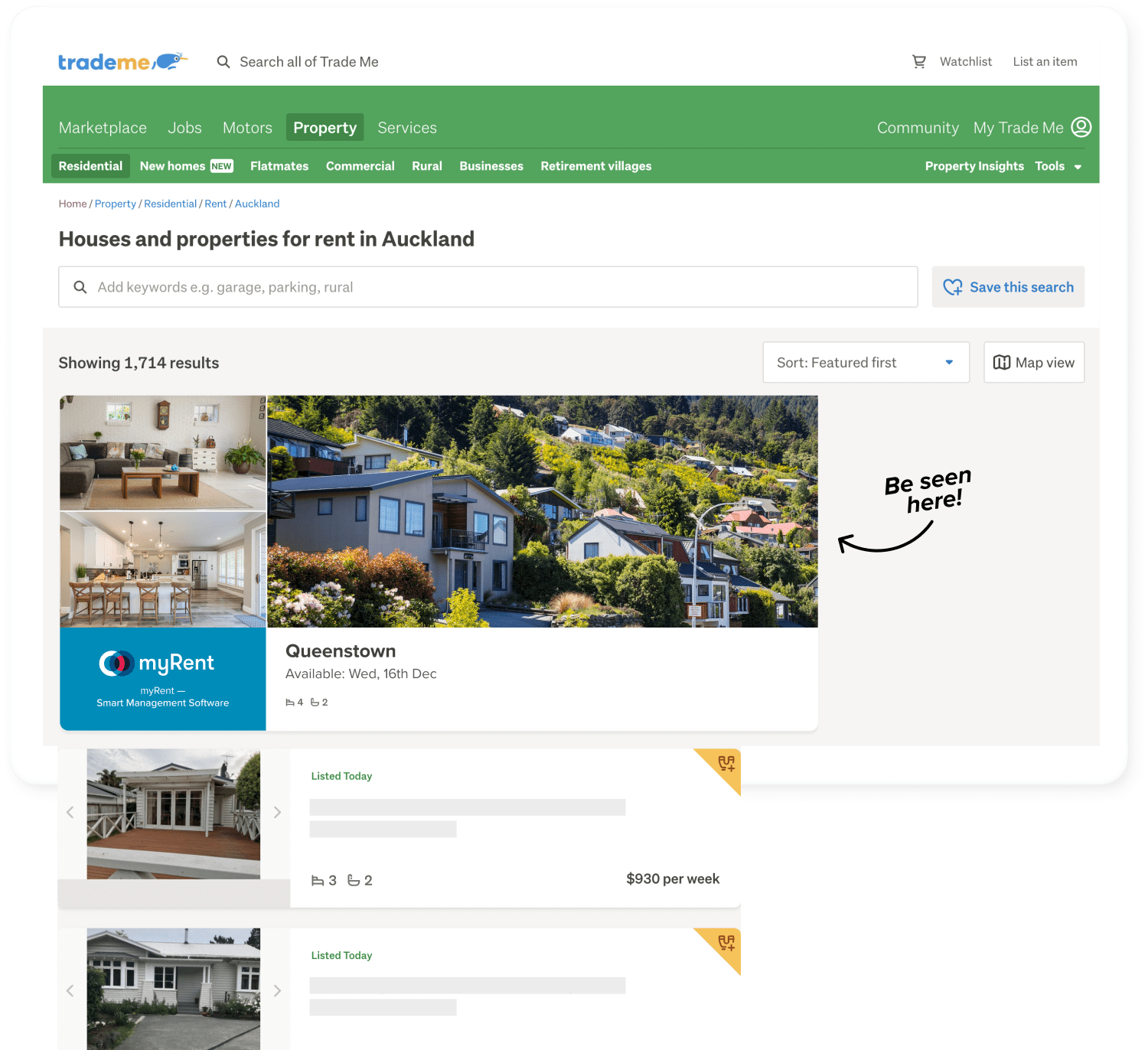 Make your one-off secure payment
Our payments are processed by Stripe, one of the world's largest and most secure online payment platforms. Payments are one off, so we do not store your card details. You'll receive a GST receipt via email.
Automatic upload to Trade Me, realestate.co.nz, OneRoof, trovit.co.nz & Homes.co.nz
Once you have completed payment our system will automatically upload your listing to realestate.co.nz, OneRoof, trovit.co.nz, and Homes.co.nz, and Trade Me if your listing is upgraded. Once complete, links to your listing are available through your myRent dashboard.
Not quite ready to sign up?
Subscribe to our free newsletter. We'll keep you up to date on all things myRent, important tenancy law changes, and new tips on maximising your returns.
FAQs
Will you share my phone number and email address?

No, your phone number and email address will not be displayed on your listing. Tenants will enquire though Trade Me, realestate.co.nz, OneRoof, trovit.co.nz, Homes.co.nz, or myRent and enquiries will be delivered to you via email.

Because we have an agents account Landlords details cannot be displayed in listings and will be removed.
Is my payment safe?

Absolutely, myRent uses the industry standard encryption to process your payment. All listing payments are one off and we do not store your card details on our servers.
How long does it take to upload my listing to Trade Me, realestate.co.nz, OneRoof, trovit.co.nz, and Homes.co.nz?

Trade Me listings usually take a couple of minutes to upload and be live on the site. OneRoof and Homes.co.nz usually takes about 20 minutes. realestate.co.nz only process listings four times a day, and trovit.co.nz once per day, so you need to be a little more patient.
Will the Trade Me listing be associated with my Trade Me account?

To get the discounted rates all listings are posted in the myRent Trade Me account. This has an advantage of receiving a FREE Super Feature Combo upgrade with any Trade Me upgrade purchased through myRent. Learn more