One place for everything
Easy to use enquiry organiser
Track and store all your enquiries, follow-up, collect applications, send viewing invites and vet tenants from one easy to access place.
Exposure in the right places
Where do the enquiries come from?
Don't miss out on the tenant you are looking for by listing on only one website. Upgrading makes sure your listing appears on all the big property sites and in front of more potential tenants.
Stay organised
One central inbox.
Keep your enquiries organised
One central place to handle all of your enquiries. Get instant email alerts and notifications when enquiries come through and respond directly through your myRent inbox.
Vet your potential tenants
Avoid awkward conversations by using our professional templates to accept or turn down applicants. You can also keep private notes on potential tenants.
Soft decline feature
Sometimes a tenant isn't the right fit. You can choose to softly decline an applicant and we'll gently break the news to them.
Invite tenants to viewings & open homes
Easily arrange, re-schedule and cancel viewings. Send automated reminders to applicants. And keep track of who RSVP'd to your open homes.
Learn more
Invite tenants to apply for your property
You can invite tenants to apply for your property via the myRent inbox. We will also link their application with their enquiry once received.
Keep your personal information private
myRent allows you to communicate directly through our platform, removing the need to share your personal details until you want to.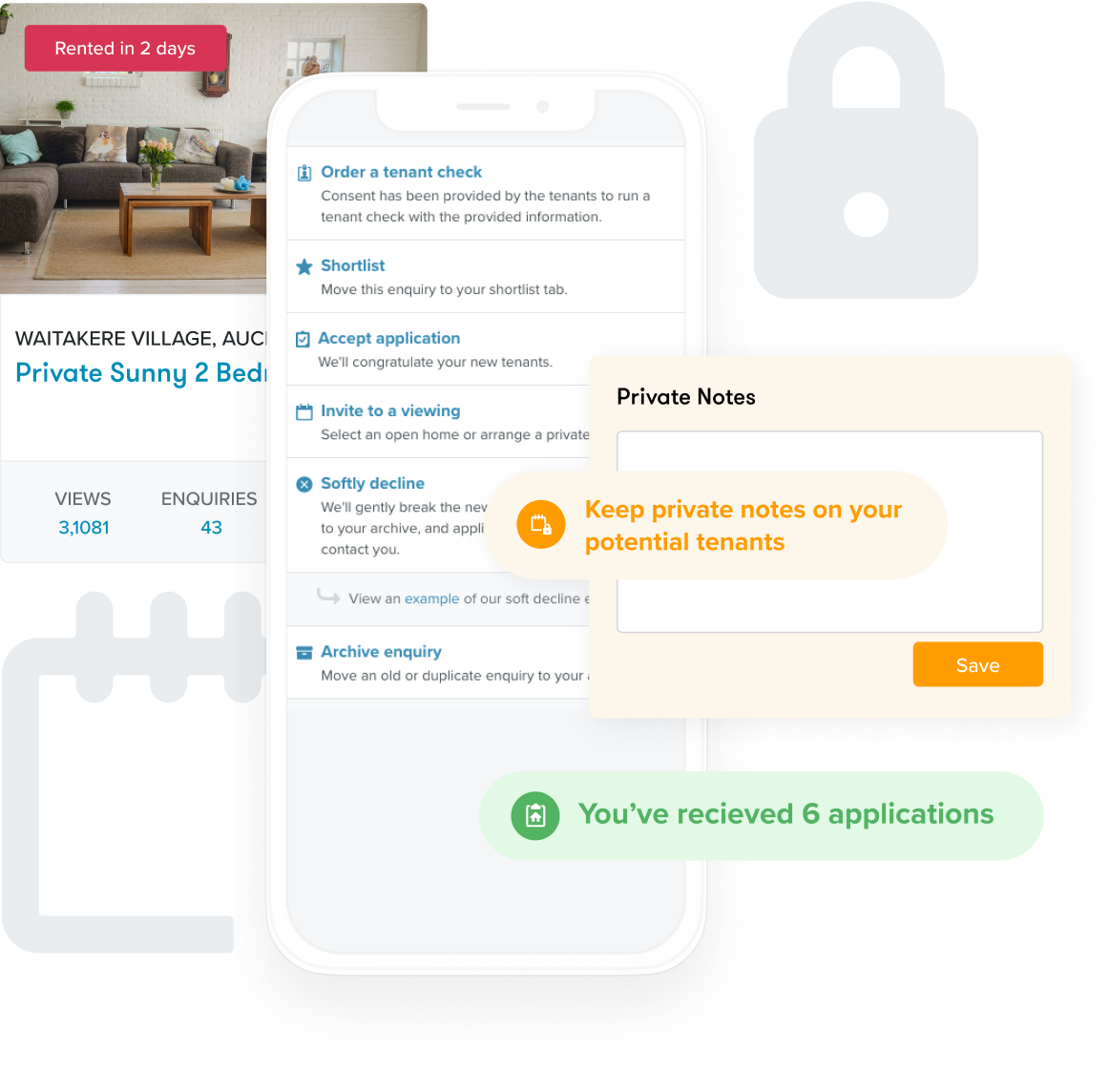 Not quite ready to sign up?
Subscribe to our weekly newsletter read by 30,000+ landlords. Get updates on important tenancy law changes, tips on maximising rental returns, and more great resources.
FAQs
Do tenants receive my contact details?

Your contact details are kept private at all times and enquiries are sent to the email address you registered with us. When replying to tenants through myRent, your details remain private. You can, of course, choose to share your email or phone number with applicants directly if you wish.
Do I need to be a hands-on landlord?

Absolutely not. When landlords meet tenants a certain level of reality or trust is built and tenants are more likely to treat you as an individual rather than a role. Some landlords build quite close connections to their tenant over time and some do not.