Great for new or existing tenancies
Save time and money, simplify compliance,
and stay in control
Rent collection
Connect your bank account for automated reconciliation, or go Hands-Free and let myRent handle rent for you.
Learn more
Tenancy agreement builder
Generate and e-sign custom agreements online, and myRent will deliver it to tenants for e-signing.
Learn more
Renewals
Renewal reminders and a simple online process to prepare and e-sign paperwork.
Learn more
Bond lodgement
Generate and e-sign your bond lodgement form, then myRent will collect and lodge the bond with Tenancy Services.
Learn more
Inspections
Receive reminders, schedule property inspections, complete and e-sign inspection reports from any device.
Learn more
Maintenance
Track and organise maintenance requests from tenants with photos and videos.
Learn more
Bills
Stay on top of tenant bills by generating invoices and managing payments easily through the platform.
Expense tracking
Connect your bank account for easy tracking of expenses with downloadable reports for your accountant.
Learn more
Communication
Communication in one place with everyone in the tenancy. Verifiable 3rd party records.
Try now with a risk-free 2 month trial
We're so confident you'll love myRent, we'll give you your first months free. There's no contract so you can leave anytime. Just $10/month when the trial period is over.
Start your trial
Currently using a property manager?
Want to know how to change to myRent and save time and money?
Read more
Stay in control
1 tenancy or 1,000 tenancies –
myRent is built for you
Less cost ($10/month)
More control
Better technology
Increased compliance
Excellent resources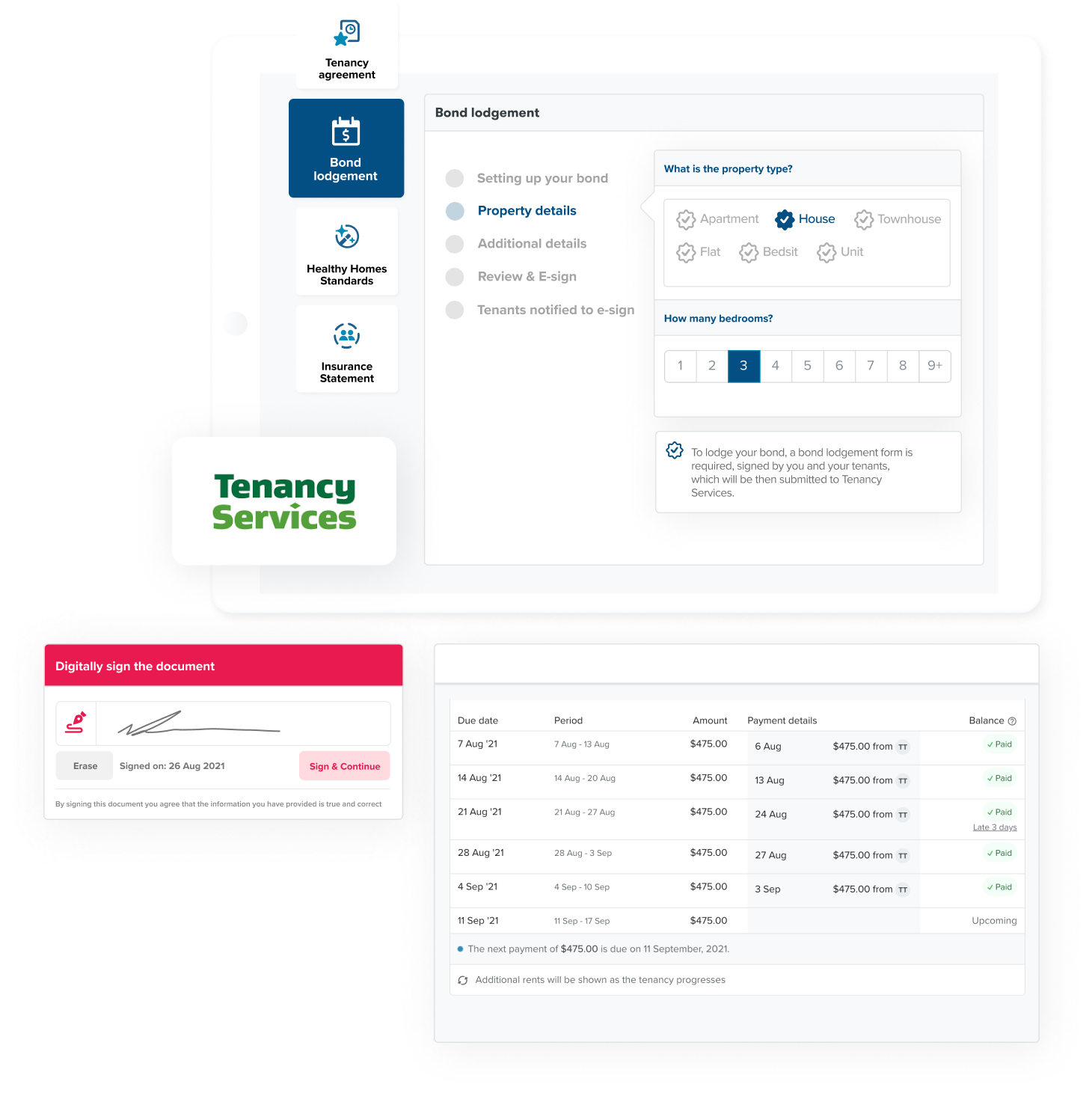 Try now with a risk-free 2 month trial
$10/month once trial ends. No contract, so you can leave anytime.
How to get started
Getting set up is easy - create your tenancy in 5 minutes
Enter current rent and tenancy dates

Fill out landlord details

Create new or upload existing documents

Invite your tenants when you're ready
myRent has helped NZ landlords track $425,353,818 of rent payments
4.9 out of 5 rating of "Excellent" on Trustpilot
Don't just take our word for it. Hear what our landlords have to say about us.
Speak to someone from our team
We're here and happy to answer any questions, give you a live demo of myRent or help you set up your tenancy.
9am - 5pm Monday through Friday
Our current response time is about 90 minutes
Not quite ready to sign up?
Subscribe to our free newsletter. We'll keep you up to date on all things myRent, important tenancy law changes, and new tips on maximising your returns.