Free inspection app
Preparing inspection reports couldn't be easier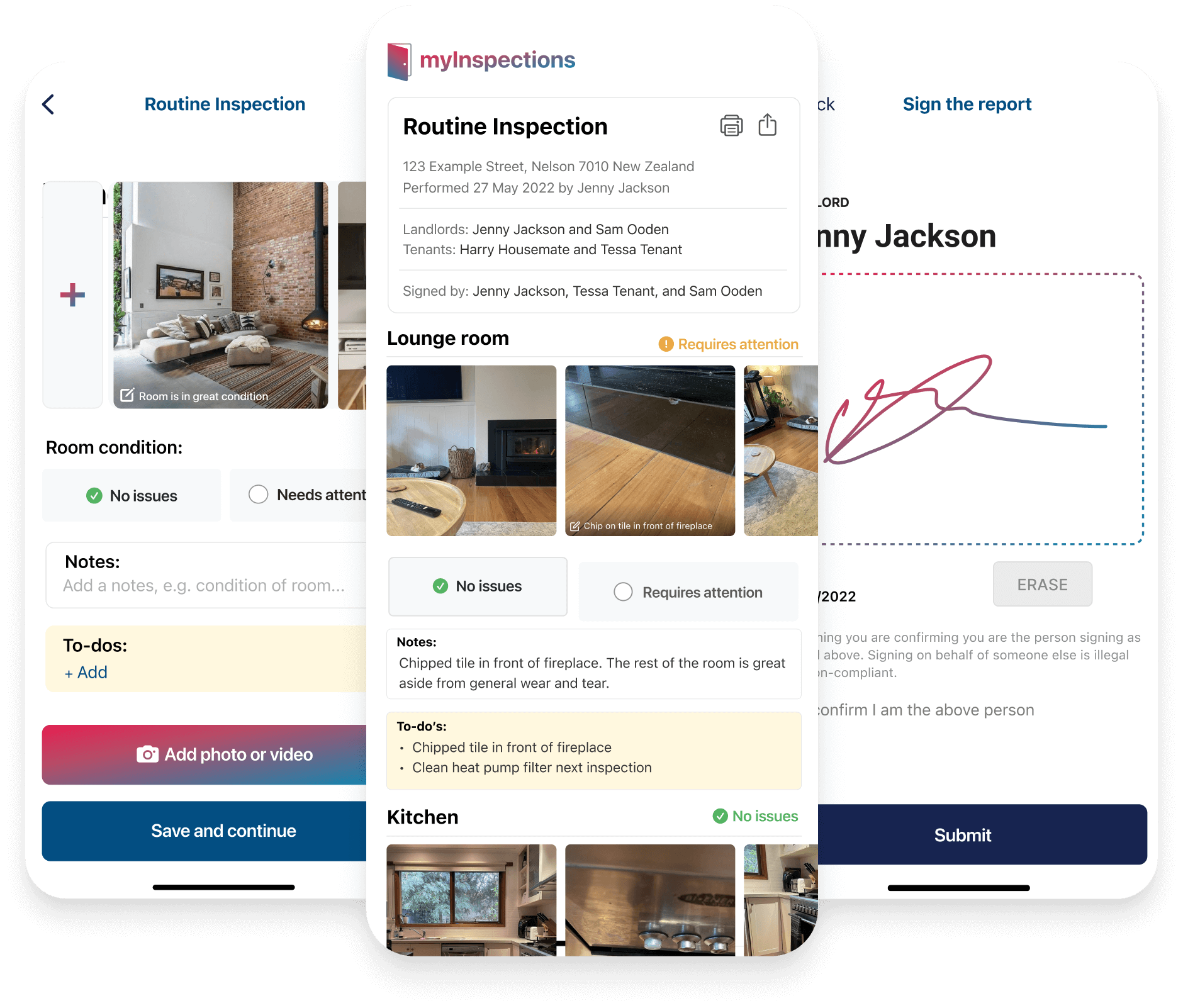 Free. Simple. Thorough.
Download the Free myInspections app today
The myInspections app is available for any Apple and Android device, and you don't need to be a myRent customer to use it! Find out more about doing your property inspections with myInspections.
Get a free myInspections Pro Account
All myRent management customers exclusively receive a myInspections Pro account as part of their myRent subscription, valued at $60/y, which includes unlimited inspections and advanced features.
Learn more
.
How it works
Schedule your inspection
Our system will help remind you to schedule your inspections at your preferred frequency.
We'll notify both you and tenants 48 hours prior to your scheduled inspections.
Download the app
Download the myInspections app from the Apple App store or Google Play store.
If you've already taken your photos or notes, you can prepare the report afterwards with the app.
Perform your inspection
Walk through the property taking photos, videos, notes, and recording any maintenance tasks for your to-do list.
If tenants are present, they can sign the report directly from your device.
E-sign your report
Review and e-sign your report and select which tenants and co-landlords will be signing. If they are present, they can sign the report directly from your device or review and e-sign later using any internet browser.
Stored in myRent
Your inspection reports will be automatically stored in myRent and available for viewing, sharing, and downloading even after the end of your tenancy.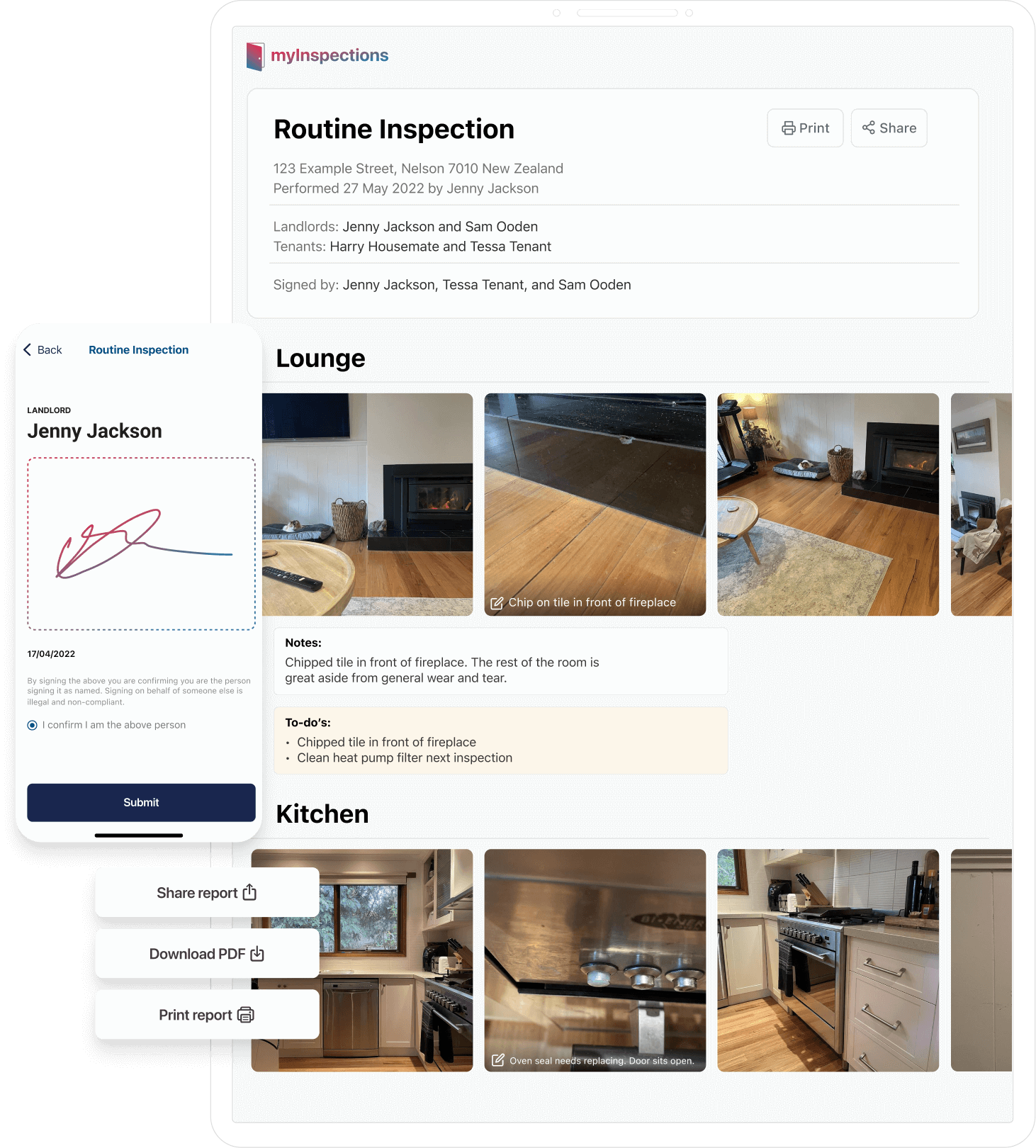 Inspect with the app - ditch the paperwork
Compliance is key
We've consulted with government agencies, insurance companies and other key players so that you can feel confident about conducting inspections correctly.
Paperless and thorough
With pictures, video, notes, and to-do lists, your customised inspection reports will be significantly more detailed than using any paper template.
Custom to your property
Customise the rooms and chattels so the inspection report covers the specific details of your property. No more trying to squeeze all the details into a generic template.
E-signing
No more printing and scanning. You choose who needs to sign the report and either e-sign on site or send it to co-landlords and tenants to review and e-sign later.
NEW
Hands-Free Inspection Service
We're now performing professional inspections for Auckland properties. Book a one-time inspection for just $125.00 or subscribe to our Hands-Free Inspection service for $100 per inspection.
Learn more
Try now with a risk-free 2 month trial
$15/month once the trial ends. No contract, you can leave anytime.
FAQs
Can I use my own reports?

Of course, you can. Just upload these through the dashboard so the tenant has access and there is a digital copy.
Do I have to do inspections?

Inspections are highly recommended (but not compulsory) for the protection of your property and to make sure your insurance is valid (check your terms). If you have a dispute with a tenant over damage and there are no inspection reports then you will have almost no chance of convincing the tribunal into awarding you damages.
Can I use myRent without using the myInspections app?

Yes, of course. The myInspections app was designed exclusively to streamline inspections and create a simple and reliable inspection process that saves you time and provides better protection for your properties. It's free and syncs automatically to your myRent account. If you prefer using your own templates, you can simply upload completed reports to your myRent account to share with tenants and for safekeeping.
Can I use the myInspections app without using myRent management?

Yes, you can. myInspections is a free, standalone app that can be downloaded from your App Store. However, with so many other awesome products built by myRent for landlords, you'd be silly not to try myRent management to see how easy landlording can be with the right tools.
Can myRent do the inspections for you?

Unfortunately not. If we had to have hundreds of people NZ wide to do inspections then we wouldn't be able to keep our management fee so low.

However there are plenty of professional inspection services available; also, you may want to ask a friend, family member, or tradesperson to do the inspection for you.
Not quite ready to sign up?
Subscribe to our weekly newsletter read by 30,000+ landlords. Get updates on important tenancy law changes, tips on maximising rental returns, and more great resources.