Digital tenancy agreements
myRent takes the hassle out of paperwork. Prepare, sign, distribute and store agreements online without lifting a pen.
Create an agreement in less than 1 minute
myRent fills out the agreement for you, you just need to confirm your pet, smoking and occupant policies and we will do the rest. Of course you get to review everything before signing.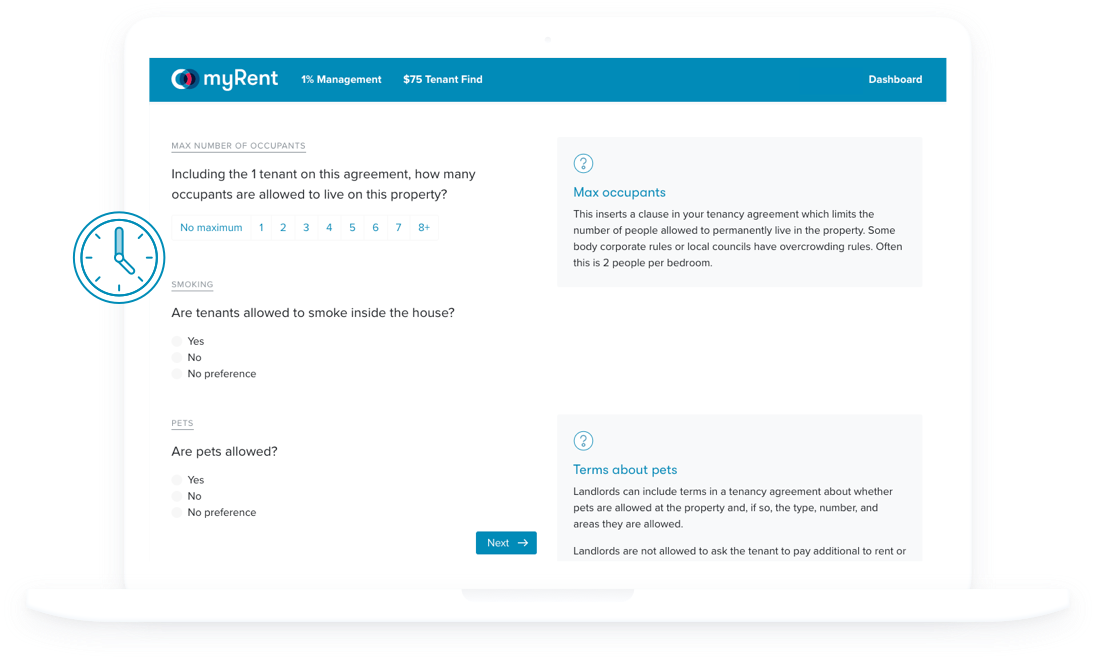 One-off insulation statements
Insulation statements are required by law but completing one everytime you sign a new agreement is a chore. myRent simplifies things by creating and storing a digital copy which you only need to update if something changes.
No more scanning, printing and emailing
You and your tenants review and e-sign the tenancy agreement online through your dashboard. This can be done wherever you are on your phone, tablet or computer.
Never lost, always accessible
myRent stores your tenancy agreement, insulation statement, Body Corporate rules and any other documents so they are accessible 24/7 to everyone in the tenancy through their dashboards.
Digital tenancy agreements are included in our $10/mo management service
Risk free 2 month trial
We are so confident you'll love myRent we are giving you your first months for free. There is no contract, so you can leave anytime.
Start your 2 month free trial
View demo
Anna
Thomas
Speak to someone from our team
We're here and happy to answer any questions, give you a live demo of myRent or help you set up your tenancy.
9am - 5pm Monday through Friday
Our current response time is about 90 minutes
Not quite ready to sign up?
Subscribe to our free newsletter. We'll keep you up to date on all things myRent, important tenancy law changes and new tips on maximising your returns.