Take the hassle out of paperwork
Prepare, sign, distribute & store your customised agreements online without lifting a pen.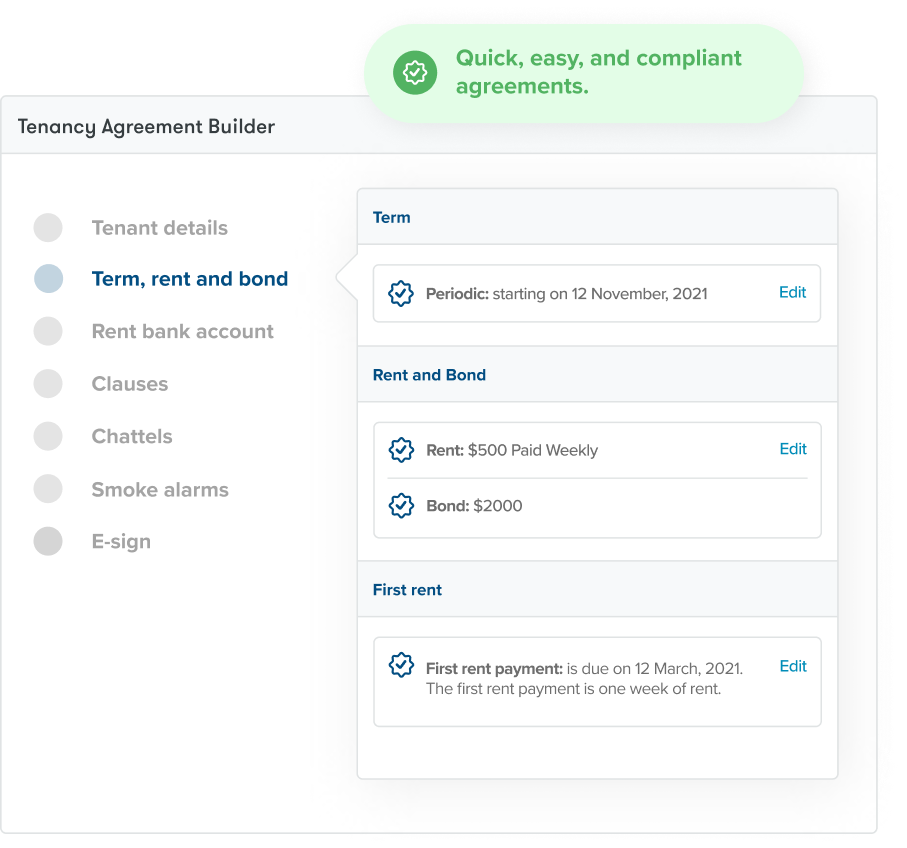 Simple, easy, convenient
Tenancy agreement builder
We've designed a comprehensive tenancy agreement builder that will guide you through the process of creating all the tenancy paperwork (including insurance and HHS compliance statements) step-by-step, so you can feel confident that everything is set up correctly.
Our system automatically translates your answers and preferences into a legally binding document. Customise your documents, attach additional pages, and skip forms that you don't need. Keeping things smart, neat, and simple is what we do.
E-signing
Multiple landlords signing
No more scanning, printing and emailing. You, your tenants, and now your co-landlords can review and e-sign tenancy agreements online through your dashboard.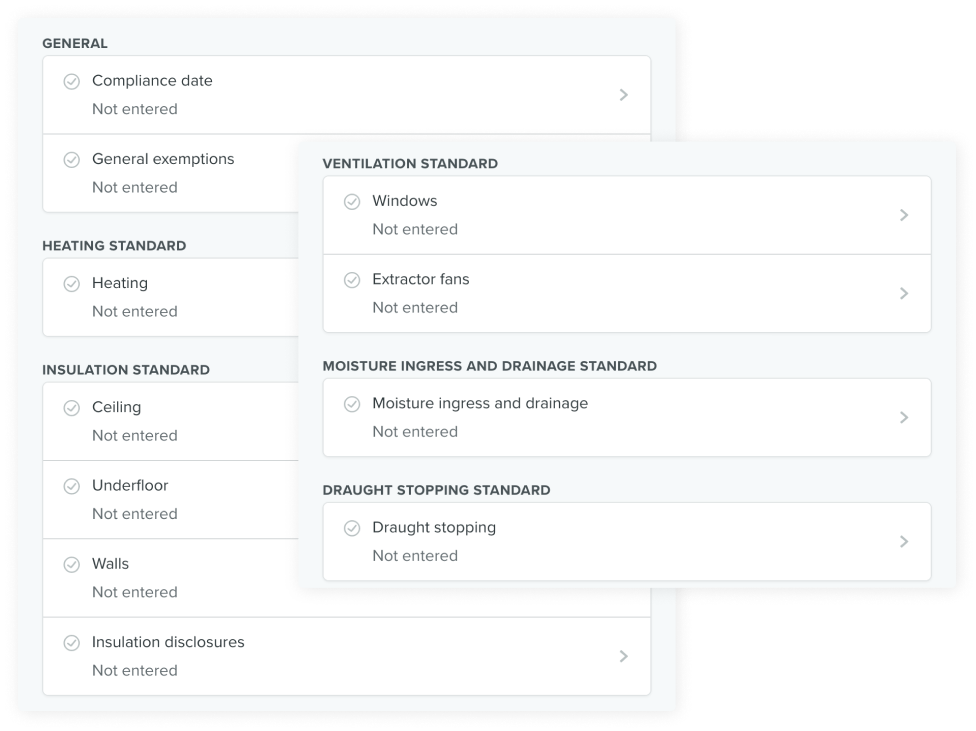 Stay compliant
Healthy Homes Standards
Easily create your HHS compliance statement. We'll guide you through the process of generating and e-signing your compliance statement.
We've got your back
Insurance statement
There are additional statements that landlords need to attach to all new tenancy agreements. We have your back and automatically include them in our templates.
Try now with a risk-free 2 month trial
$15/month once the trial ends. No contract, you can leave anytime.
FAQs
Can I use my own tenancy agreement?

You are welcome to use your own agreement. Unfortunately, it will not be set up for e-signing, but you can sign and upload it and myRent will share it with the tenants for them to sign and upload.
Is e-signing legally binding?

Section 226 of the Contract and Commercial Law Act 2017 specifies that e-signing is as legally binding as signing in person. You can read more about this on our blog.

Aside from saving time and hassle electronic transactions have the advantage that records of who signed what and when is much more complete.

If for some reason you are uncomfortable with the e-signing process you can always print scan and upload your documents.
Is the myRent tenancy agreement compliant?

Absolutely, myRent uses the standard Tenancy Services tenancy agreement. This ensures you are compliant with the Residential Tenancies Act and that you will not run into any problems with it should you need to present it at the Tribunal.

myRent will also keep records of the tenancy beyond the 12 months that the Residential Tenancies Act requires and will make sure that the additional clauses we walk you through are not in contradiction of the Act.

myRent makes it easier for Landlords to comply with the requirement to produce a written agreement, having it signed and providing a copy to the tenant.
What happens when the agreement ends?

myRent will remind you when your agreement is coming to an end and present you with the options. Read more about this in renewals.
What happens if the tenancy has already started and I already have a tenancy agreement?

Using our digital tenancy agreement is optional and you are welcome to use your own. If the tenancy has started then just upload a copy so it can easily be accessed by all parties. When you renew you can swap to our agreement or use your own again.
Speak to someone from our team
We're here and happy to answer any questions, give you a live demo of myRent, or help you set up your tenancy.
9am - 5pm Monday through Friday
Our current response time is about 90 minutes
Not quite ready to sign up?
Subscribe to our weekly newsletter read by 30,000+ landlords. Get updates on important tenancy law changes, tips on maximising rental returns, and more great resources.