Advertise your rental
The easiest and fastest way to find great tenants.
Create advert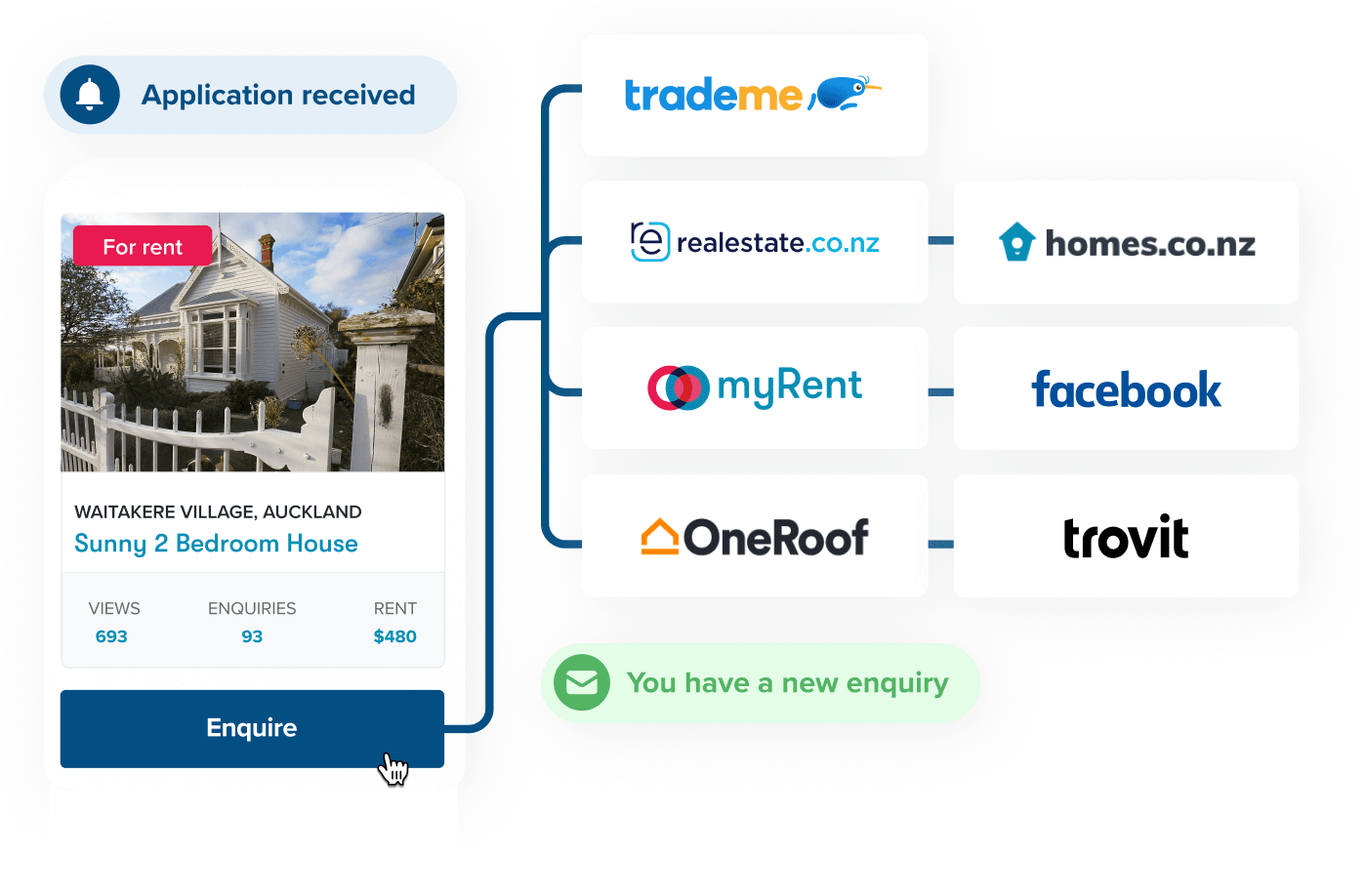 Maximum exposure
Confidence in numbers

.

Received (on average) in the first 2 weeks.

Rented on myRent to date.

Received per listing on average.

Receive myRent property alerts on new listings.
How it works
All the tools you need to secure great tenants.
1. Easy listing creation
It's simple to create (and edit) your listing. We'll automatically publish it within minutes and keep it updated across all our partner websites. Learn more
2. Enquiries
You'll receive enquiries from all of our listing partner sites into one consolidated inbox. So you can view, respond to, and manage all of your enquiries in one spot.
3. Powerful tools to stay organised
Shortlist the best candidates, softly decline unsuitable applicants, write private notes, invite tenants to complete an application and keep track of all applicants details.
4. Simplify viewings & open homes
Easily schedule, invite, re-schedule, and cancel viewings. Send automated reminders to applicants, and keep track of who RSVP'd to your open homes. Learn more
5. Compliant digital applications
Receive online applications from potential tenants before or after viewings. Make better decisions with all of the information at your fingertips. Learn more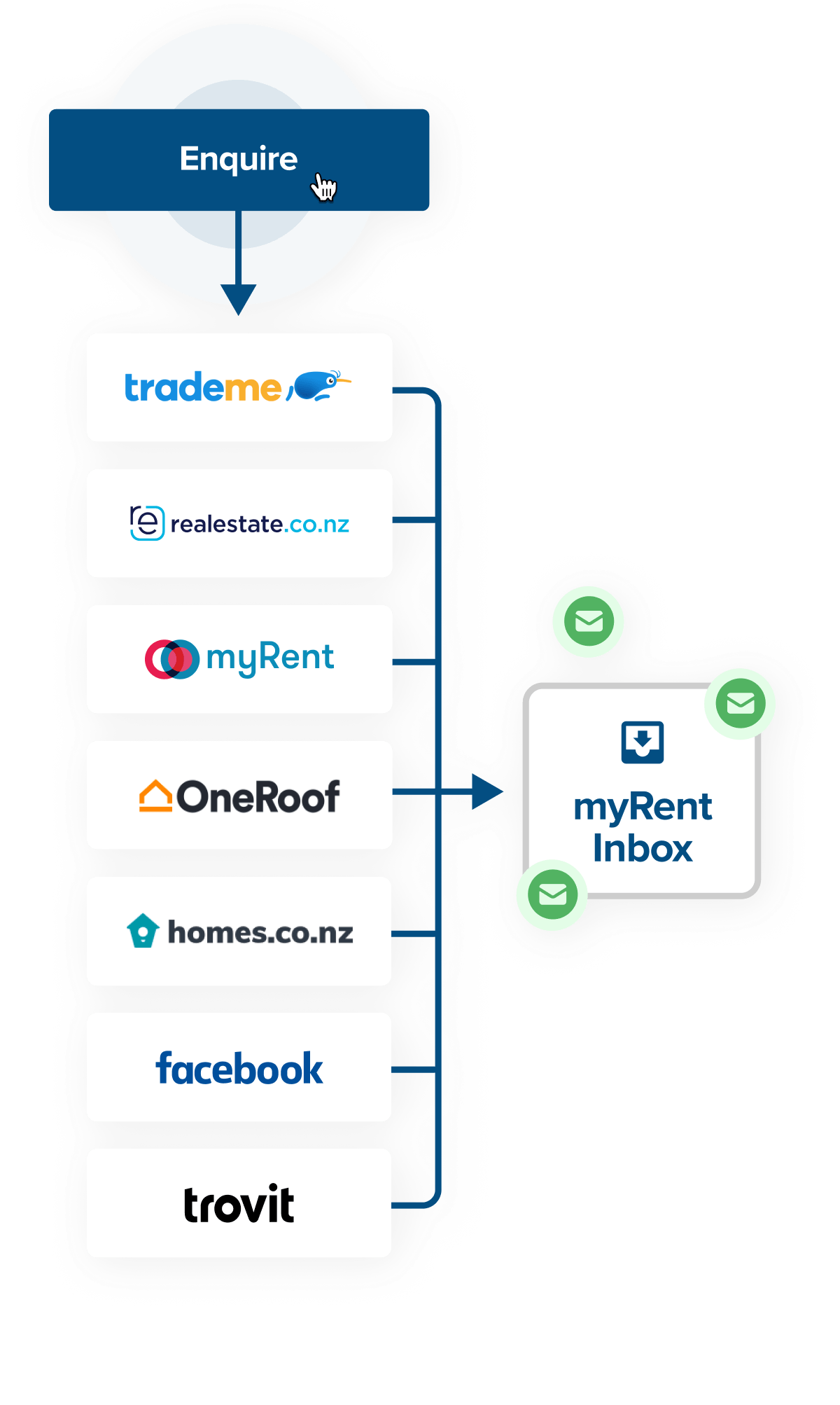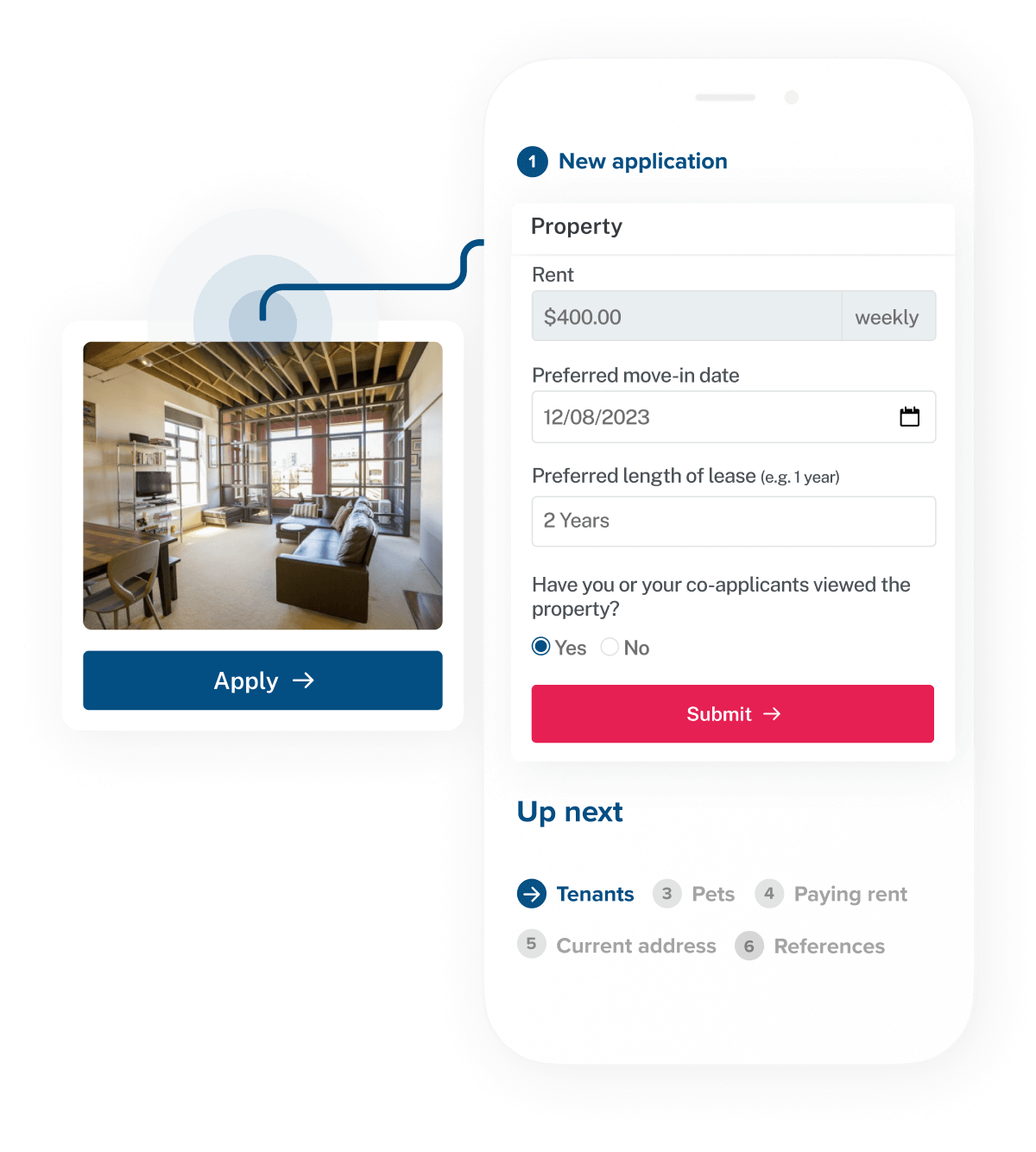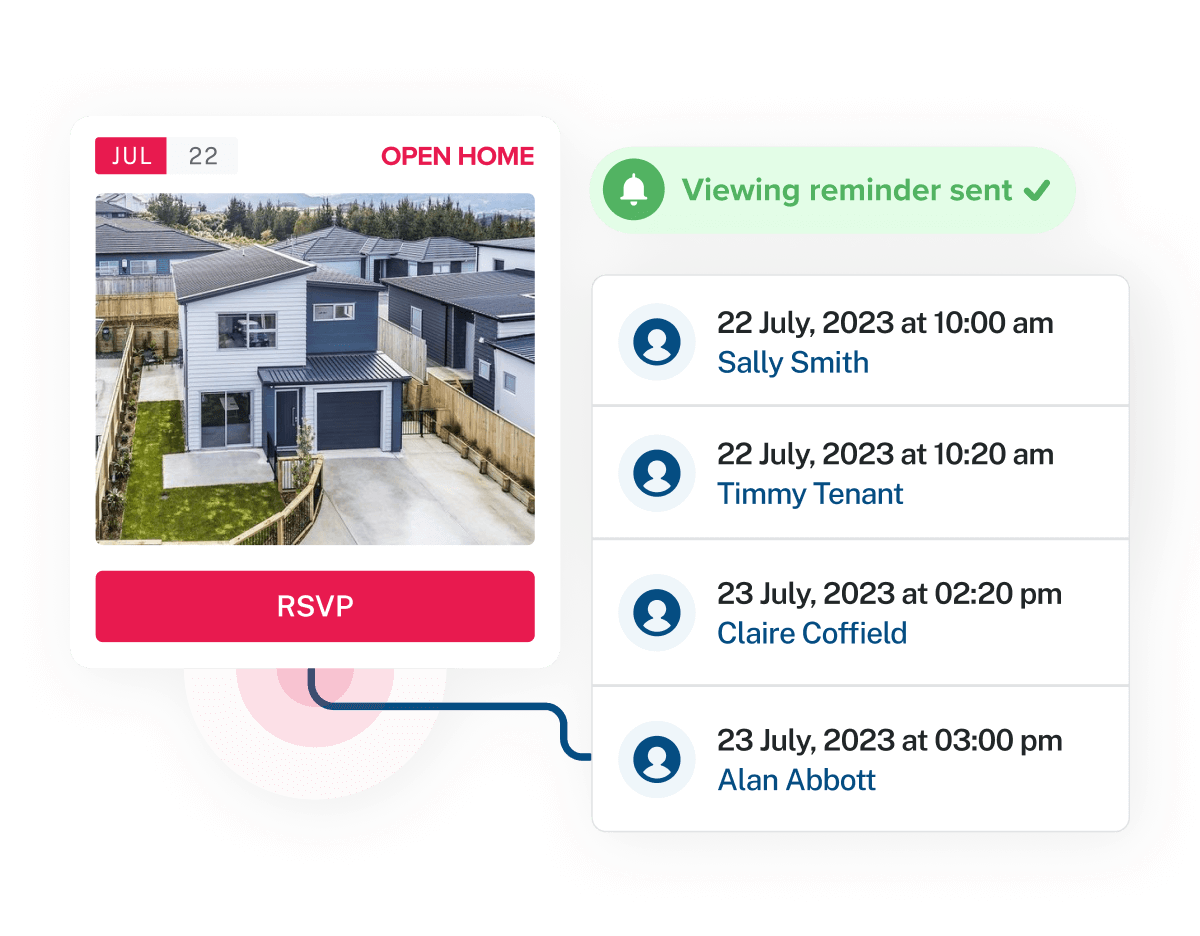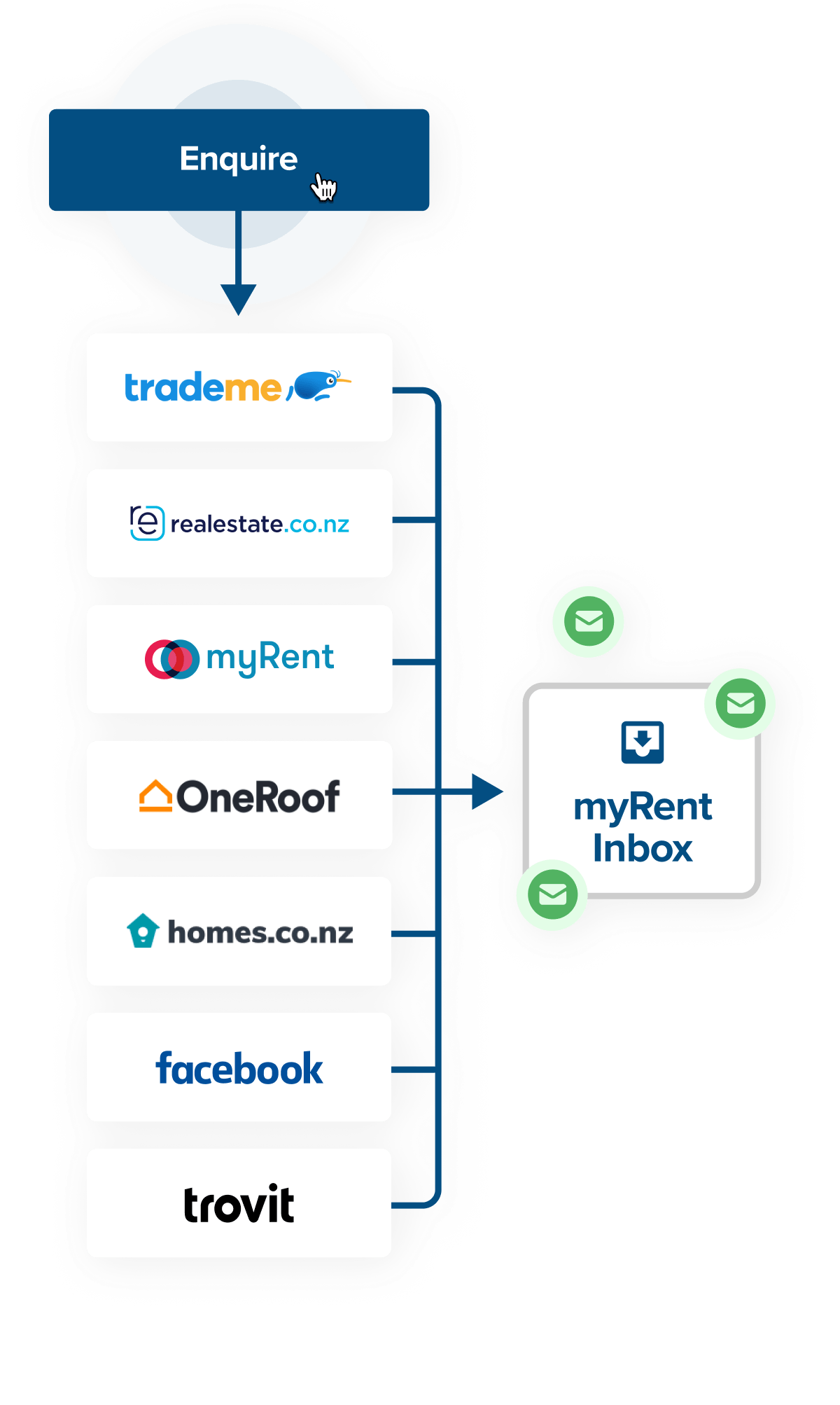 What does it cost?

Listing posted on Facebook
Email to myRent tenant database
100,000+
active subscribers
Stay organised with an easy-to-use inbox
Shortlist potential tenants
Digital tenant applications
Viewing and open home scheduler
Save private notes on applicants
ADD A
TRADE ME LISTING
& MAXIMISE YOUR RESULTS
Achieve the ultimate reach with Trade Me's top performing listing!
NZ's #1 property portal
13.5 million rental listing views per month
Top of search results for the ultimate visibility
Premium listings appear above feature and base listings
Premium is not normally available to private landlords
Advertise like a pro with an upgrade usually reserved for agents
60% increase in listing views with Premium
More potential tenants view your listing so you get more enquires
A better outcome with better tenants
More enquires gives more opportunity to choose the right tenants for your property.
Each Trade Me upgrade includes a listing on homes.co.nz
Trusted by 25,000+ NZ landlords. See what they have to say:
Not quite ready to sign up?
Subscribe to our weekly newsletter read by 30,000+ landlords. Get updates on important tenancy law changes, tips on maximising rental returns, and more great resources.
FAQs
Why is the price so cheap?

myRent has 25,000+ NZ landlords using the platform, and due to our volume we are able to negotiate a reseller discount with Trade Me.
Do you charge fees to tenants?

myRent does not charge tenants any fees.
Can I advertise my property on myRent without using the myRent self-management software?

Advertising with myRent does not require you to use our property self-management software. However, for $15 per month and with a 2 month free trial, you would be silly not to try it.

Learn more about management

.
How do potential tenants contact me?

Tenants will be able to enquire on Trade Me, myRent, or any of our other partner sites. All enquires will be sent to you via email with all the tenants' details. You will also be able to access your enquires through your dashboard where you can categorise, sort, and add notes - meaning organising viewings is a breeze.

Unfortunately, due to the terms of our advertising agreements with our partner sites you will not be able to include personal contact details in your listing.
Can I edit my listing?

Yes, you can edit your listing as many times as you like. Updating your listing on myRent means it's updated on all our partner websites as well.
For how long will my listing stay active?

We advertise your property until it's rented or no longer available. For reference, the average rental on myRent goes under offer in 11 days. We do have to comply with fair usage policies of our partner sites, and remove old listings after 6 months. It is incredibly rare for a landlord to fail to find a suitable tenant with us.
Who can use this service?

myRent is built for landlords to advertise their property and to connect directly with tenants.