How it works
More exposure = More enquiries
Don't miss out on the perfect tenant by only listing on one website.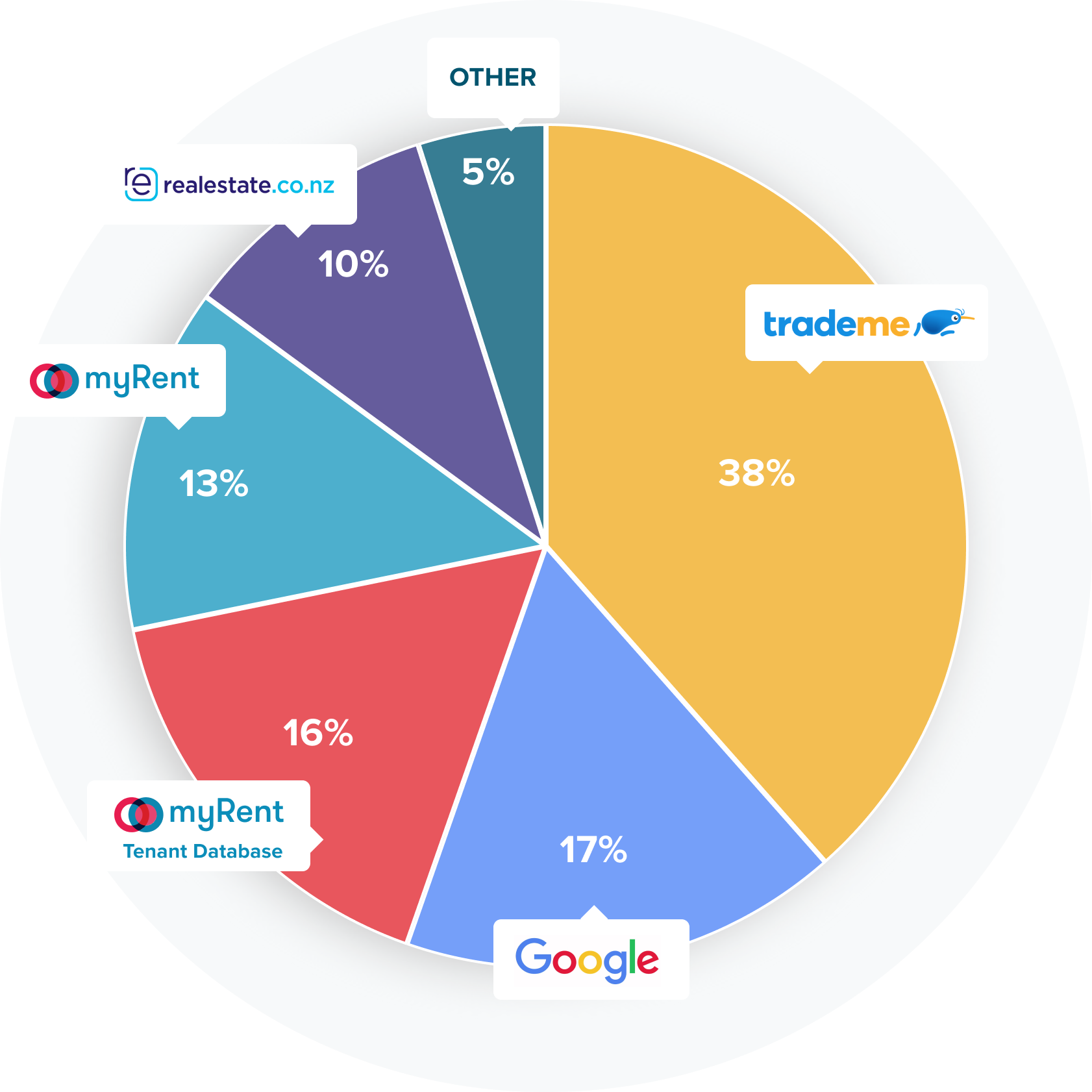 *Based on enquiries from July 2020
What you get for $40.00
Email to myRent tenant database
39,366 +
active subscribers
Easy-to-use enquiry organiser
Messaging system
Digital tenant applications
Open homes scheduling tool
Save private notes on potential tenants

Easy listing management

Edit your listing on myRent and we'll update it everywhere

Listing posted on Facebook
Optional add-on
Include a Trade Me listing
A
listing + Super Feature Combo
directly through Trade Me is $298*
* Based on a property with a weekly rent of $400 - $599.99
FAQs
Why is the price so cheap?

myRent has 11,332 NZ landlords using the platform, and due to our volume we are able to negotiate a reseller discount with Trade Me. myRent's core business is our management platform so we are happy to pass on the Trade me advertising at cost.
Do you charge fees to tenants?

myRent does not charge tenants any fees.
Can I advertise my property on myRent with without using the myRent self-management software?

Advertising with myRent does not require you to use our property self-management software. However, for $10 per month and with a 2 month free trial, you would be silly not to try it.

Learn more about management

.
How do potential tenants contact me?

Tenants will be able to enquire on Trade Me, myRent, or any of our other partner sites. All enquires will be sent to you via email with all the tenants' details. You will also be able to access your enquires through your dashboard where you can categorise, sort, and add notes - meaning organising viewings is a breeze.

Unfortunately, due to the terms of our advertising agreements with our partner sites you will not be able to include personal contact details in your listing.
Can I edit my listing?

Yes, you can edit your listing as many times as you like. Updating your listing on myRent means it's updated on all our partner websites as well.
Will my listing be removed after a period of time?

No. Your listing is advertised until your property is rented. You remove your ad when you're ready.
Who can use this service?

myRent is built for landlords to advertise their property and to connect directly with tenants.
4.8 out of 5 rating of "Excellent" on Trustpilot
Don't just take our word for it. Hear what our landlords have to say about us.
Not quite ready to sign up?
Subscribe to our free newsletter. We'll keep you up to date on all things myRent, important tenancy law changes, and new tips on maximising your returns.