Bonds lodged for you
There is so much going on at the start of any tenancy, let myRent take bond lodgement off your hands.
Documents prepared in 2 minutes
myRent will fill out the bond lodgment form for you and have it ready for e-signing by both you and the tenants. myRent will handle the rest.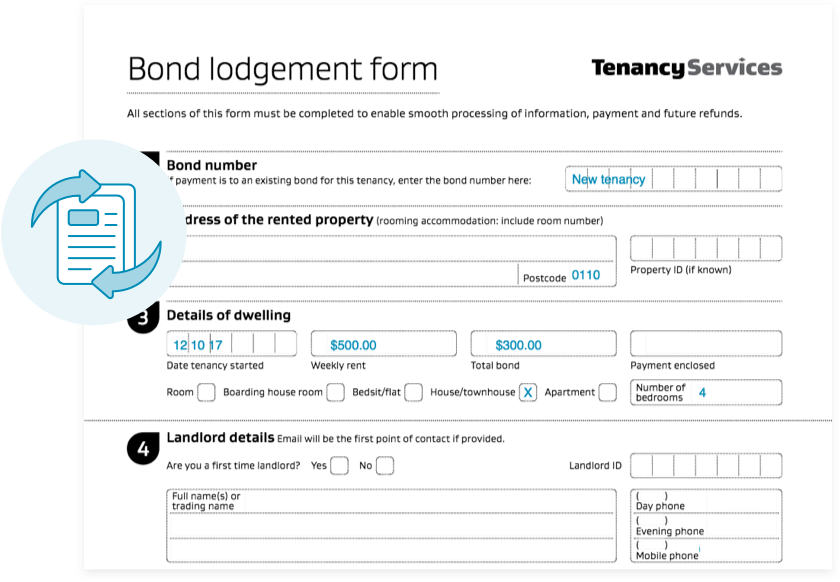 myRent handles the payment
The tenants pay the bond directly to myRent. myRent lodges and transfers the bonds to Tenancy Services once a week so it will always be lodged within the required 23 days. You will receive an application number as soon as it's lodged.
Bond receipts safely stored
Tenancy Services will provide a bond receipt directly to the landlord and tenants. Upload the bond receipt into your dashboard so it's available throughout the tenancy.
Returning the bond or making a claim
Returning the bond or making a claim is as easy as completing the bond return form which can be shared and signed through the website.
Bond lodgement is included in our $10/mo management service
Risk free 2 month trial
We are so confident you'll love myRent we are giving you your first months for free. There is no contract, so you can leave anytime.
Start your 2 month free trial
View demo
Anna
Thomas
Speak to someone from our team
We're here and happy to answer any questions, give you a live demo of myRent or help you set up your tenancy.
9am - 5pm Monday through Friday
Our current response time is about 90 minutes
Not quite ready to sign up?
Subscribe to our free newsletter. We'll keep you up to date on all things myRent, important tenancy law changes and new tips on maximising your returns.