Find tenants
myRent makes setting up new tenancies easier
Save yourself the time and hassle, let myRent handle the moving in documents and payments for you.
Simple quick signup
Signup is easy, you enter the basic details of the tenancy and the tenants' details through the website and we take over from there. You will need to review and e-sign a few documents but we will handle the rest.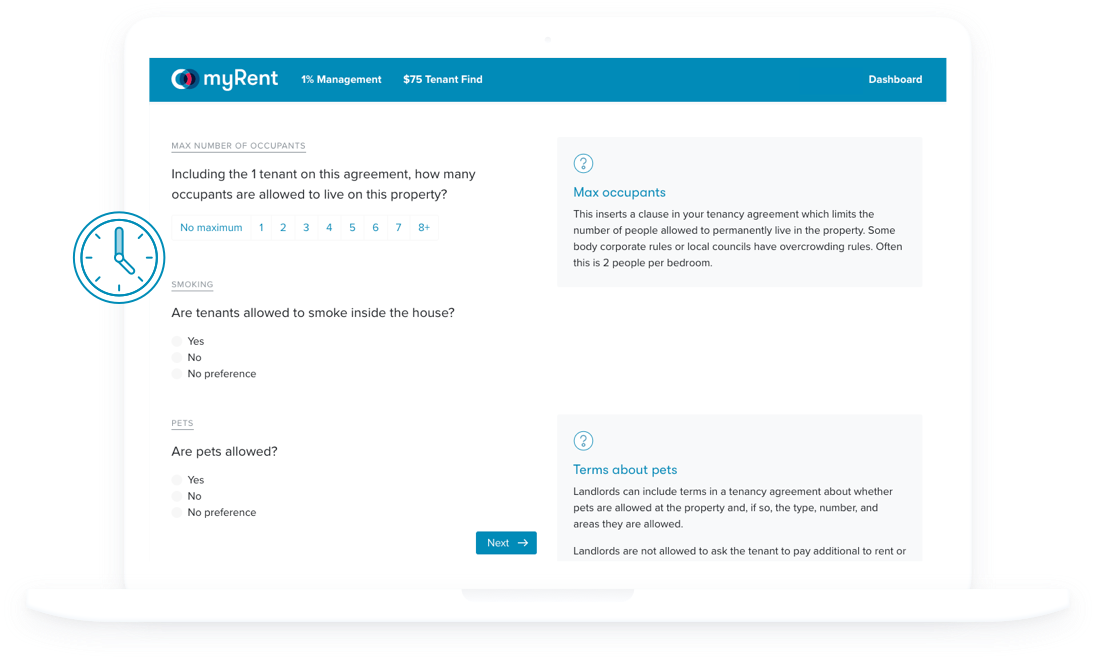 Tenancy agreement
We prepare the tenancy agreement for you including adding any additional clauses. Review and e-sign and we will arrange the tenant to do the same. Documents will be safely stored in the cloud throughout the tenancy. Read more about tenancy agreements.
Bond lodgement
We handle the entire bond lodgement process for you. After you have e-signed the bond lodgement form we arrange the tenant to sign and pay the bond. We then lodge and transfer it to Tenancy Services. Both you and tenants will be provided with the receipt when it is done. Read more about bonds.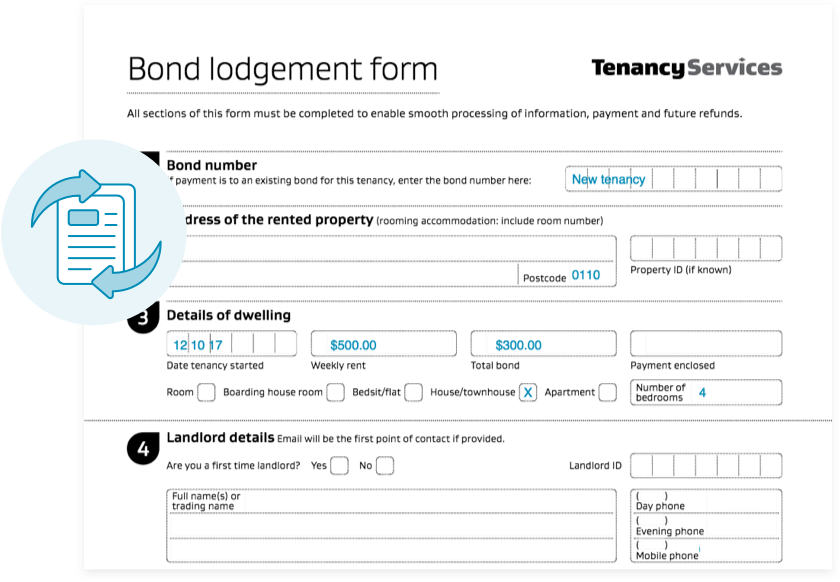 First rent payment (optional)
To make things easy and secure for you and your tenant we can collect the first rental payment of 1 or 2 weeks rent for you. A record is recorded through the dashboard and the money is transferred to you the next working day. Read more about rent collection.
Initial inspection
You can create and sign an inspection report digitally with tenants on the move-in day. Or have the inspection documents ready before the tenancy has started and we will arrange for the tenant to sign and return the inspection documents later. The choice is up to you. Either way, we have all the templates ready for you and everything along with your property photos and video is stored securely in the cloud. Read more about inspections.
Tenant onboarding is included in our $10/mo self-management software.
Try now with a risk-free 2 month trial.
We are so confident you'll love myRent we are giving you your first months for free. There is no contract, so you can leave anytime.
Speak to someone from our team
We're here and happy to answer any questions, give you a live demo of myRent or help you set up your tenancy.
9am - 5pm Monday through Friday
Our current response time is about 90 minutes
Not quite ready to sign up?
Subscribe to our free newsletter. We'll keep you up to date on all things myRent, important tenancy law changes, and new tips on maximising your returns.
FAQs
Do you charge any tenant fees?

No we do not charge any tenant fees. Setting up a tenancy is part of the self-management software. There are no other fees.